With 4th of July only mere days away, I thought I would post a super cute and very easy wreath you can make! This wreath is made using tulle and a Lark's head knot.  First though...gather your materials! Here is what you will need: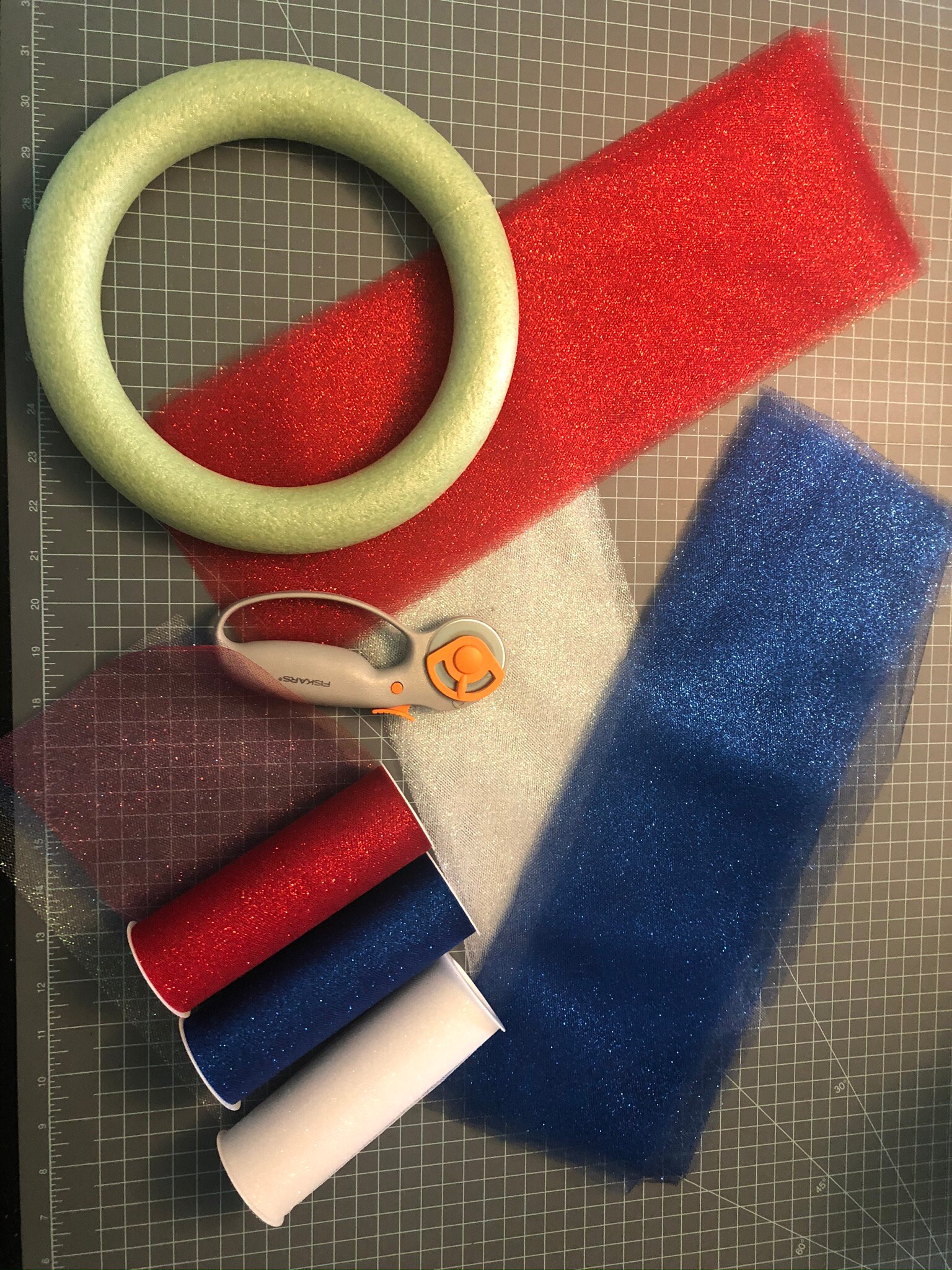 **3 rolls of 6 inch wide tulle in red, white and blue! I of course had to get the sparkly tulle...cuz you know...it sparkles!
**a foam wreath form. Mine is 10 inches and I got it from the dollar store, but you can usually pick them up at any craft store with a floral department.
**a rotary cutter and mat (scissors can be used but a rotary cutter makes life so much easier!)
**floral picks...usually found in your floral section or seasonal section. (I added them last minute to my wreath and didn't picture them in my supplies.)
So when I first started making wreaths and had to cut deco mesh, I would painstakingly cut each piece separately.  Then one day I got a clue and realized I could layer the pieces on top of each other and then cut all the colors at once.  (see example below)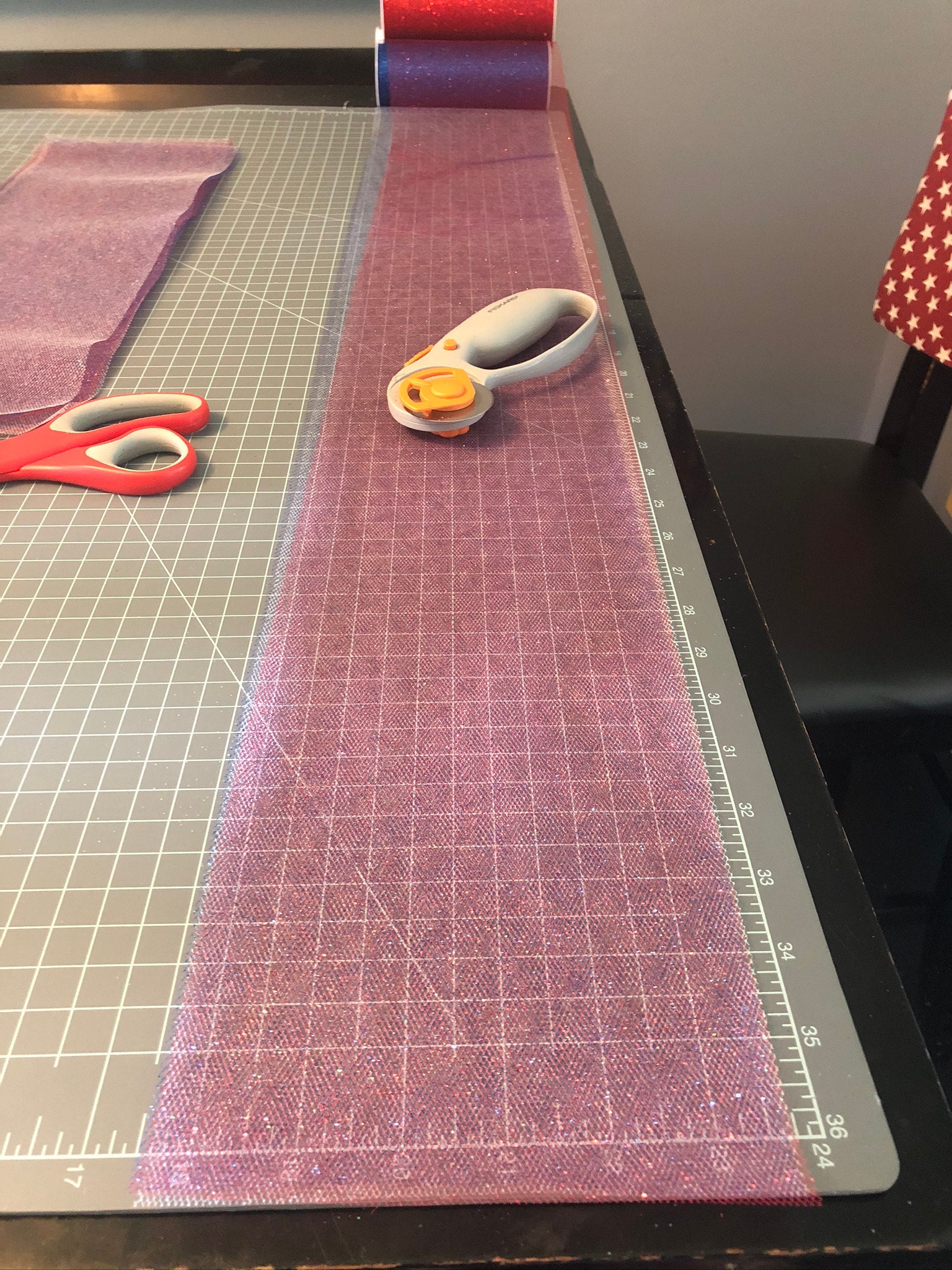 I layered all the colors of the tulle on top of each other and rolled them out on my cutting mat.  I then cut my tulle at 18 inches long. I had roughly 20 of each color for my 10 inch foam wreath, for a total of 60 pieces.  Now depending on what size wreath form you get, you may need more or less pieces of tulle.  And as always, it's personal preference as to how full you want your wreath to be. 
Once all your tulle is cut, you will be using a Lark's head knot to make this wreath.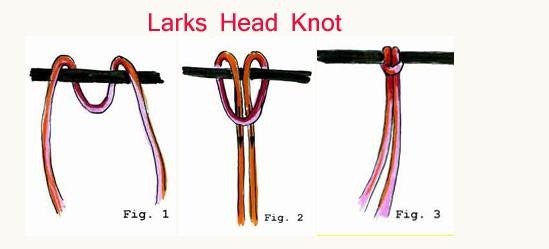 1.  Fold your length of tulle in half at the center.
2. Take the fold and put it over the top of your wreath form and pull it down so you can see the loop below the wreath. (see fig. 1)
3.  Take the two ends of your tulle and pass them through the loop made by the fold of the tulle over the wreath form. (see fig. 2)
4.  Pull the ends of the tulle tight.  ( see fig. 3)
I alternated the colors all the way around my wreath and made sure there were enough on there so you didn't see any of the foam form below. Once done, I added some floral picks.  You may need to trim them down a bit.  I slid the wire part of the pick up underneath the tulle and folded the wire around the back of my wreath to make sure it was covered up.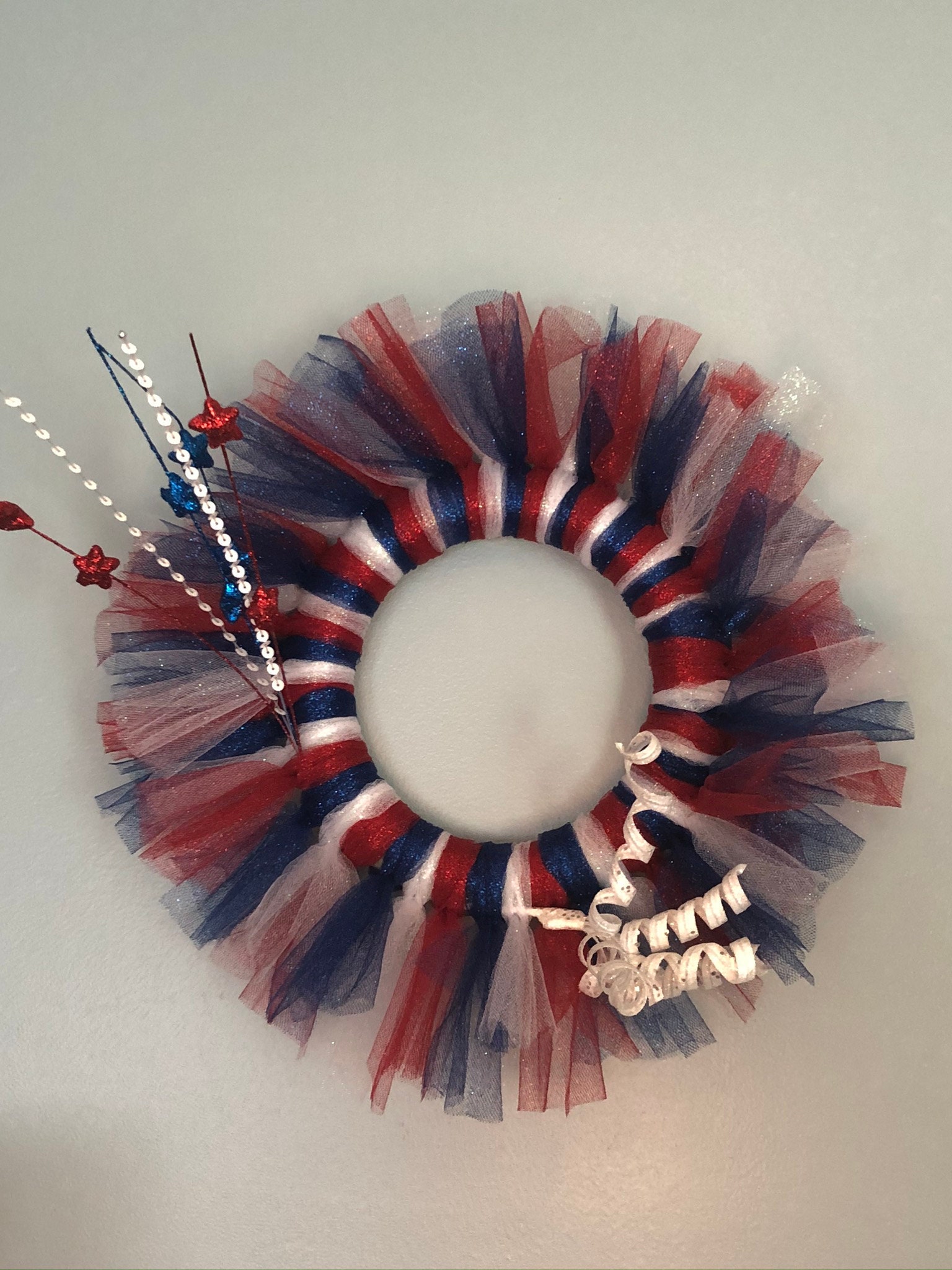 And that's all there is to it!
Are you more of a visual learner? Watch my tutorial on Youtube to see how it's done!